"A billion here, a billion there, pretty soon it begins to add up to real money."
Senator Everett Dirksen supposedly said that in 1969, but it's even more true today. While there are nearly 23 million millionaires in the US now, there are estimated to be only 735 billionaires.
Yet, you hear so many numbers being bandied about in the billions, as if we were talking about Monopoly money or candy coins. Just today, Disney announced they are acquiring Comcast's 1/3 interest in Hulu for $8.61 billion dollars. But that pales in comparison to Kroger's acquisition of the Albertson supermarket chain for $25 billion, or Broadcom's intended acquisition of VMware for $61 billion dollars.
Sports stars are regularly paid in the hundreds of millions. Tiger Woods, Lionel Messi, and LeBron James are among that group of 735. Eight athletes currently make over $100 million per year, which means they—and others in the queue for big paydays—will soon be joining this elite list.
This would not mean much if it weren't for the fact that 70-90 percent of all acquisitions fail. And many highly paid athletes get injured or don't deliver on the promise of those big, fat contracts.
There's no guarantee that just because something looks or sounds expensive, it's better. Sometimes the best deals come without all those zeroes at the end. The difference between discovering the next Tiger or Messi or LeBron before they become established? Just a few billion dollars, give or take.
---
Check out our marketing leadership podcasts and the video trailer for my book, Marketing Above the Noise: Achieve Strategic Advantage with Marketing that Matters.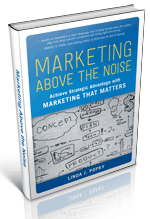 .
---
Let us help your business rise to the top.
linda@popky.com
(650) 281-4854
www.leverage2market.com