About two weeks ago, one of the largest private banks in the country, Silicon Valley Bank, was declared insolvent and taken over by the FDIC.
The last banking crisis, in 2008, was caused by consumer banks aggressively offering subprime mortgages to unqualified buyers, who couldn't pay them back. There was fraud and intentional miscommunication to buyers, who were stuck with loans for which they were never truly qualified.
This was different. SVB, who has funded many of Silicon Valley's brightest young companies over the last 40 years, made a series of poor investment decisions in light of current market conditions. This made depositors concerned enough to rapidly withdraw their money and cause a run on the bank. Federal guarantees are limited to $250K per account–not enough to cover the exposure of startups, who were keeping millions of dollars of funds raised at SVB.
Then two things happened. The federal government stepped in to ensure SBV depositors would receive their funds in time to run payroll and meet day-to-day requirements. And, amazingly, most of the biggest banks in the country agreed to bolster another local bank, First Republic, a well-managed bank caught up in the panic and chaos.
Why would they do that? Because too often people react emotionally. In an effort to take care of themselves, they cause a panic that affects not just the institution in question but can spread to the whole sector. The big banks realized that in this case, helping a competitor might be the best way to help themselves.
Are you prepared to do what's needed to help support your industry or market–even if it means possibly helping a competitor? How confident are you other players would do the right thing for you?
As Mr. Spock said in Star Trek, "The needs of the many outweigh the needs of the few."
You can bank on that.
---
Check out our marketing thought leadership podcasts and the video trailer for my book, Marketing Above the Noise: Achieve Strategic Advantage with Marketing that Matters.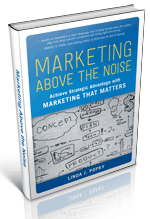 .
---
Let us help your business rise to the top.
linda@popky.com
(650) 281-4854
www.leverage2market.com