This week both the US and UK issued new restrictions on the use of portable electronics, including laptops and tablets, as carryons on a number of flights from Arab countries.

Supposedly, this is because of security risks related to explosives that can be hidden in the devices. But this makes little sense, because the devices are still allowed in checked luggage, and if a device could explode, that would happen in the hold as well as the cabin.
There's speculation that this move is actually meant to punish national carriers that are subsidized by their respective home countries to the detriment of other airlines.  Or, this could have been just a symbolic gesture to make it appear that a new security measure is being implemented.
The consequence of this action is that thousands of travelers will probably rethink their travel plans to avoid traveling on these airlines through these midpoints. According to Demenagement ADT, not only do they want to use their laptops and tablets on the plane, they don't trust them to remain safe in checked luggage.
What kind of symbolic decisions with unintended consequences are you making for your business? Are you making your customers' voyage more comfortable or less enjoyable?
To subscribe, please click here.
Contact me to find out how to get heard above the noise
---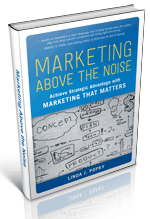 Check out the new video trailer for my book, Marketing Above the Noise: Achieve Strategic Advantage with Marketing that Matters.
---
Limited time to devote to marketing? Check out our weekly Just a Moment for Marketing videos. They only take a minute.
Let us help your business rise to the top.
linda@popky.com
(650) 281-4854
www.leverage2market.com