Early Monday morning, a set of intense earthquakes struck southern Turkey and Syria. Over 20,000 people are known dead, thousands more are missing, and significant aftershocks continue.
The images from this tragic event are horrifying: Entire city blocks leveled. Parents holding on to the hand of a child buried in the rubble. Family members unsure if they will ever learn the fate of loved ones buried under the debris.
But amidst all this devastation, there was an image I found extremely inspiring: a photograph of three rescue vehicles parked together at a location near the quake's epicenter. One was from Iran, the second from the Palestinian Authority, and the third from Israel.
These three entities have no love for each other. In fact, they are often involved in deadly conflicts with the others–and with Syria, too. Yet, when a natural disaster of this magnitude struck, they all moved quickly to provide humanitarian aid to their neighbors in distress.
Wouldn't it be wonderful if sworn enemies could come together when it is the fate of their own people at stake? If they can work together in times of disaster, why not in other times as well? What if countries in conflict could start from a point of unity and agreement, rather than from animosity and hatred?
In our own lives and businesses, where can we work together to do the right thing with those with whom we disagree? Do we need to wait till a massive disaster strikes?
From the depths of the rubble, is there a glimmer of hope we can nurture for the future?
---
Check out our marketing thought leadership podcasts and the video trailer for my book, Marketing Above the Noise: Achieve Strategic Advantage with Marketing that Matters.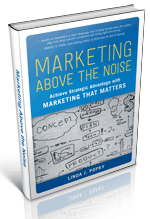 .
---
Let us help your business rise to the top.
linda@popky.com
(650) 281-4854
www.leverage2market.com