It all started with the desire to do something musical in honor of Ukraine.
Polly van der Linde, owner of Sonatina Piano Camps, asked her students if they'd like to learn the music of Ukrainian composers. Dozens of people responded, and this quickly turned into a marathon recorded piano concert for humanitarian relief.
Not only did this effort raise more than $100K in funds, but it also created the most comprehensive collection of recorded Ukrainian piano music in existence. An association of music teachers asked Polly to characterize the music in order of difficulty, so they could give it to their students to play.
This week, Polly's efforts in this area were recognized by Musical America in their special Resilient Warriors edition, honoring the 32 people who did the most to advance and promote the arts in 2022.
Check out the special edition here:
https://www.musicalamerica.com/specialreports/2022_PROFESSIONALS_OF_THE_YEAR.pdf
What a well-deserving honor for Polly, who has impacted the lives of thousands of musical students of all ages over the last several decades.
And what a powerful reminder of how the efforts of a few people can have such an incredible impact, as music helps heal the world.
Here's the CBS Evening News report about the fundraising concert: https://www.youtube.com/watch?v=XaLTD08utK0
Subscribe to this newsletter.
---
Check out our marketing thought leadership podcasts and the video trailer for my book, Marketing Above the Noise: Achieve Strategic Advantage with Marketing that Matters.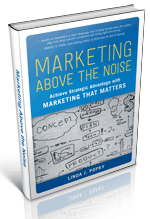 .
---
Let us help your business rise to the top.
linda@popky.com
(650) 281-4854
www.leverage2market.com