This week, California is burning, yet again. This time the most deadly fire in the state's history destroyed the town of Paradise in the northern part of the state, killing more than 50 people. And in Southern CA, the Woolsey fire has displaced thousands and destroyed hundreds of homes.


If this sounds familiar, it's because we've been here before. It was only a year ago that downed PG&E transformers sparked the deadly Wine Country fires in Santa Rosa and Sonoma. Two years before, the utility was held responsible for a similar, smaller fire in Butte County.
Both of this year's fires appear to have started the same way–a downed PG&E transformer near Paradise, and a similar incident involving a Southern CA Edison transformer near Thousand Oaks.
After last year's disaster, the utilities told us they were putting safety plans in place: trimming excess vegetation, replacing aging equipment, proactively turning off power during high risk conditions, alerting customers when fire danger was imminent.
It does not appear those actions were taken in these situations, which means all of this devastation and loss of life was totally preventable.
What good does it do to have a comprehensive safety plan if you don't execute it in emergency conditions? 
Think about your business. Are there contingency plans you've put in place but haven't been prepared to execute? Have you given your team the authority to quickly take steps in an emergency, without going through extensive procedures or bureaucracy? Can you take effective action at a moment's notice?
It's bad enough to suffer through a disaster once, but making the same mistakes multiple times is inexcusable. There's no reason to have deja vu all over again.
Contact me to find out how to get heard above the noise.
---
Limited time to devote to marketing? Check out our weekly Just a Moment for Marketing videos. They only take a minute.Check out our marketing thought leadership podcasts.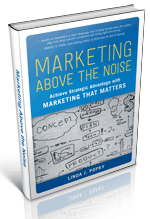 Check out the new video trailer for my book, Marketing Above the Noise: Achieve Strategic Advantage with Marketing that Matters.
---
Let us help your business rise to the top.
linda@popky.com
(650) 281-4854
www.leverage2market.com