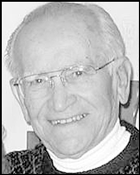 Lou Hidvegi
I found out this past weekend that a close friend of our family's had just passed away.
I've known Lou Hidvegi since I was a small child: In many ways, he was closer to our family than many of our blood relatives. We first met Lou when he joined my dad's insurance agency, where he sold life insurance for close to 30 years. He was also a devoted husband, father and grandfather and a devout Catholic who was very involved in his church.
His family put together a very nice, informative obituary, which fills in many of the key details of Lou's life. But there are a few important things I'd like to add.
Like the fact that after we lost everything we owned in the Hurricane Agnes flood in 1972, Lou (who lived outside the flood zone) rolled up his sleeves and spent months helping my dad clear out the debris in our house, knock out walls and rebuild.
Or that Lou taught me how to drive in his brown Dodge, because my dad was much too nervous to do it himself.
Or that Lou taught me how to throw a football and a baseball–since he was more athletic than anyone in our family.
Or that Lou used his artistic talents to create the logo my dad used for his insurance business for decades.
Or that he used his knowledge of Hungarian to translate a letter sent to my great grandfather from his cousin in Hungary in 1910, so that we could finally understand it.
Or that Lou and his wife Mary always made the best selection of Hungarian cookies and treats and  invited us over at Christmas each year–while at the same time never forgetting to send us holiday cards for each major Jewish holiday, birthday, anniversary or other major event in our lives.
Always fit and trim, Lou suffered a stroke many years ago but fought back to recover most of his capabilities, though he was frustrated at a slight speech impairment that lingered. In recent years, he'd had a number of health setbacks, including a complicated appendectomy and the cancer that finally beat him.
At 87, he had a good, long life, during which he touched many, many people with his enthusiasm, positive spirit and kindness. After a long, hard fight, he's finally at rest. But those of us he left behind will miss him dearly. Rest in piece, dear friend.