Marketing Leverage Times – Summer 2009
---
ON OUR SITE:
About Us • Consulting Services • Marketing Leverage • How We Help Clients • Contact Us
---
Welcome to the latest edition of the Marketing Leverage Times. Our goal is to provide you with provocative information and thought-provoking commentary on marketing and business issues to help you better leverage your investment in marketing programs, processes and people. We hope you will enjoy this regular collection of tips, tidbits and tools and we welcome your input and feedback. Tell us what you like and don't like and what you'd like to see in future editions.
---
FOLLOW US ONLINE:
On Twitter • On LinkedIn • Leverage2Market on FaceBook • Linda on FaceBook
Linda's Blog • Linda's Podcasts
---
CHANGING THE RECIPE
At the beginning of the year, I learned the persistent dry cough I'd had since fall was a mild form of asthma brought on by eating certain foods. The biggest culprits: wheat, dairy, and eggs.
I eliminated foods with these ingredients from my diet and started to feel better. It was a challenge to eat in restaurants, because I was avoiding bread, pasta, cheese, anything deep fried, with mayonnaise or breaded, and, of course, just about all baked goods.
Someone asked me when I'd be able to eat normally again, and it seemed the answer was never. Even one bite of an offending food was enough to set off a reaction, which means these foods were all off-limits indefinitely. The way I'd eaten my whole life no longer worked.
It's as if the world was turned upside down and the old paradigms were broken.
---
TAKE BETTER CONTROL OF YOUR CAREER: NEW MARKETING YOUR CAREER PROGRAMS NOW AVAILABLE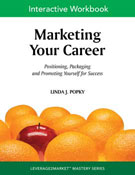 We've expanded the offerings available in our Marketing Your Career series with a new interactive workbook, as well as a workshop and one-on-one coaching and mentoring programs.
The new offerings are in addition to the popular Marketing Your Career handbook, released last year. The workbook features a series of simple, straight-forward and fun exercises to help professionals identify their key differentiators and produce the type of effective marketing campaign required to succeed in this tough economic environment.
The one-day workshop, to be offered on June 27th through San Francisco State University's College of Extended Learning, is designed to help professionals take control of their career options, and develop an actionable plan to market themselves in today's economy.
We also now offer one-on-one coaching and mentoring services customized to meet individual needs, including personal branding, review of resumes and cover letters, and development of effective marketing strategies for securing new positions or obtaining promotions within existing organizations. Participants can choose single session or extended support options.
To thank you for your support, for a limited time we're offering special discounts on the Marketing Your Career program to the Leverage2Market community. Learn more.
---
NEW RESEARCH PROJECT: BEST PRACTICES IN MARKETING COMPETENCY

Best of breed companies use tough economic times to fine-tune their organizations, build on their strengths, and position themselves to compete more effectively in the future.
We're about to launch a research project to understand how effective organizations build competency in their marketing teams, develop the new skill sets required to be successful in future marketing initiatives, and provide growth opportunities for marketing professionals in spite of limited job growth.
The study will include 1:1 interviews with senior marketing executives at organizations with established marketing organizations of at least 50 people, as well as a short online survey aimed at marketing executives in small and medium size businesses.
Contact us to participate or for more information.
---
WHAT MARKETING THOUGHT LEADERS ARE SAYING?

Check out the latest episodes in our podcast series, Marketing Thought Leadership.
Gary Katz on why marketing operations matters
Dave Taber on what's wrong with lead generation
Jim Lenskold on measuring return on marketing investment
Upcoming guests include Laura Lowell on publishing as a business model, Katie Payne on social media measurement, and Celeste Bishop, on the importance of reputation management.
Subscribe to our podcasts.
Suggestions for speakers or topics? Let us know.
---
LEVERAGE 2 MARKET IN THE NEWS

Leverage2Market's Linda Popky was quoted in the Society for the Advancement of Consulting (SAC) release on how business needs to prepare to exploit the coming economic recovery.
In May, Linda presented Powerful Proposals: The Key to Closing More Business at the Women in Consulting South Bay Meeting and The First 90 Days: Positioning Yourself for Success, at the Execunet Transitions Event in Palo Alto.
Linda was the featured speaker at Collaborative Practice Silicon Valley in June, with a presentation on Practical Ways to Promote Your Collaborative Practice.
---
UPCOMING EVENTS
Marketing Your Career Workshop: Translating What You've Learned to Career Success, San Francisco State University – June 27
Weathering the Storm: Learnings from the Recent Women in Consulting (WIC) Compensation Survey, Webinar – July 22, 11am PDT
Branding Strategies, SF State – starts July 27
Introduction to Sales & Marketing Tactics, UCSC Silicon Valley Extension – starts September 16
Standing Out From the Crowd: Marketing Strategies to Build Thought Leadership – Lunch & Learn Seminar, September 22, 11:30am, Keypoint Credit Union, Santa Clara, CA
Why Social Media Doesn't Work, Webinar – September 24, 8am PDT, presented as part of BrightTalk's Social Media Marketing Summit
Big Marketing Tips for Small Businesses: Practical Strategies to Create a Basic Marketing Campaign – Evening Seminar, October 27, 6pm, Keypoint Credit Union, Santa Clara, CA
We are in the process of booking our Fall/Winter '09 speaking schedule. If your business or association could use a dynamic, thought-provoking presentation or workshop on marketing or business strategy, please contact us.
Download our updated Speaker Sheet.
Remember: Our workshops and seminars are available to individuals and corporate groups. Contact us for more information.
---
WE GROW THROUGH REFERRALS
Our goal is to offer the value we provide to as many people and organizations as we can. Our business is 100% referral-based, which means we rely on people like you to tell others about the types of results they can get from working with us. If you know an organization that could benefit from more impactful marketing programs, processes, or people, please let us know.
---
OUR LIST
You are receiving this newsletter because you have been identified as someone who may be interested in receiving communications related to marketing strategy from Linda Popky and/or Leverage2Market Associates. We do not ever sell, rent, lease or otherwise distribute our mailing list. If you would like to be removed from this list, please unsubscribe here.
---
PASS THIS ON
Please feel free to forward this newsletter to others you think may enjoy it. To be added to our subscription list, please subscribe here.
For more information on how to better leverage your investment in marketing programs, processes, and people, contact us.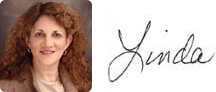 Linda Popky, President
Leverage2Market Associates, Inc.
One of Silicon Valley's Top Women of Influence
Member, Million Dollar Consulting® Hall of Fame
Email: linda@leverage2market.com
Phone: 650-281-4854
Fax: 650-780-0386
Web: www.leverage2market.com