Marketing Leverage Times – Fall 2009
---
ON OUR SITE:
About Us • Consulting Services • Marketing Leverage • How We Help Clients • Contact Us
---
Welcome to the latest edition of the Marketing Leverage Times.
Our goal is to provide you with provocative information and thought-provoking commentary on marketing and business issues to help you better leverage your investment in marketing programs, processes and people. We hope you will enjoy this regular collection of tips, tidbits and tools and we welcome your input and feedback.
Tell us what you like and don't like
and what you'd like to see in future editions.
---
FOLLOW US ONLINE:
On Twitter • On LinkedIn • Leverage2Market on FaceBook • Linda on FaceBook
Linda's Blog • Linda's Podcasts
---
LESSONS FROM THE COLLEGE CAMPUS
Several weeks ago we had the opportunity to send our daughter off for her first semester of college.
As any parent knows, this is both an exciting adventure and a scary one – it's a very strange feeling to realize your little girl is now a full-fledged adult with all the thrills and responsibilities that entails.
If you haven't been on a college campus in awhile, let me tell you things have changed.
---
NOW AVAILABLE: PROMOTING YOUR NON-PROFIT WORKBOOK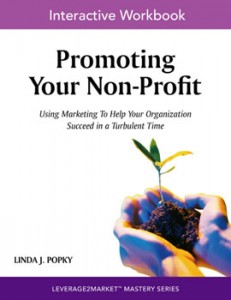 Using Marketing to Help Your Organization Succeed in a Turbulent Time
On the heels of the great response from our seminar earlier this year, we've collected many of the tips and techniques we shared with non-profit organizations into an information-packed, easy-to-use workbook called Promoting Your Non-Profit.
This easy-to-use, information-packed workbook will get non-profits and membership organizations on the right track to creating effective marketing and promotional programs. No knowledge of marketing is required.
To thank you for your support, until November 15, 2009, this workbook is available at a special reduced price to the Leverage2Market community. Choose either the printed workbook or eBook. Use the coupon code "L2M Associates" to get the special reduced pricing.
---
MARKETING STRATEGIES TO BUILD THOUGHT LEADERSHIP

Free Lunch and Learn Seminar – Oct 1, Keypoint Credit Union, Santa Clara
Now more than ever, it's important to be recognized as a leader in your field. Customers, prospects, and employees need reassurance that they are associated with strong organizations that will continue to thrive in tough economic times and beyond. They want to know that the companies they partner with are thinking ahead and will remain so moving forward.
Learn why it's so important to use thought leadership to grow and develop a strong brand. Understand how you can use simple, cost-effective marketing techniques, including social media, to build and differentiate your business, especially in tough economic time.
---
NEW RESEARCH PROJECT LAUNCHING IN OCTOBER: BEST PRACTICES IN MARKETING COMPETENCY
Our research project to understand how effective organizations build competency in their marketing teams launches in October.
The study will include 1:1 interviews with senior marketing executives at organizations with established marketing organizations of at least 50 people, as well as a short online survey aimed at marketing executives in small and medium size businesses.
---
EXPANDING MARKETING EDUCATION

As part of our passion to build strong marketing professionals, Linda Popky has joined West Virginia University's (WVU) Master's in Integrated Marketing Communications (IMC) program as an adjunct instructor. She'll be teaching an online course in Brand Equity Management starting in October 2009.
WVU's IMC Master's program is offered exclusively online with no classroom attendance is required, enabling students to earn their degrees from anywhere in the world.
---
WHAT MARKETING THOUGHT LEADERS ARE SAYING

Check out the latest episodes in our podcast series, Marketing Thought Leadership.
Laura Lowell on building your personal brand through publishing
Katie Payne on social media measurement
Celeste Bishop on the importance of reputation management
Simma Lieberman on why diversity is important for marketing
Upcoming guests include Norma Watenpaugh on the importance of strategic alliances, Karen Galatis on integrating technology into go to market programs, and Lynn Hunsaker on new rules for innovating the customer experience.
Join our podcast update list.
Suggestions for speakers or topics? Let us know.
---
NEW BUSINESS MARKETING ASSOCIATION MARKETING STRATEGY ROUNDTABLE
We are pleased to announce that in January 2010, Linda will be launching and leading a new Marketing Strategy roundtable breakfast meeting series for the Northern California Business Marketing Association.
Modeled on BMA's successful series of roundtables on product marketing, branding, and other marketing areas, the new series will feature dynamic speakers focused on marketing strategy topics of interest to Silicon Valley marketing professionals. Meetings include breakfast and will be held the last Wednesday of each month at 8:30 am at Scott's Seafood Restaurant in Palo Alto, starting Wed, Jan 28th, 2010.
---
LEVERAGE 2 MARKET IN THE NEWS

Leverage2Market's Linda Popky has joined the Law Biz Forum, hosted by renowned law business practice expert Ed Poll, as a marketing expert.
In July, Linda presented Weathering the Storm: Learnings from the Recent Women in Consulting (WIC) Compensation Survey at a Women in Consulting Webinar.
On Sunday, November 1st, Linda will again be participating in the Crestmont Conservatory Annual Pianothon. She'll be playing selections from Chopin, as well as Mozart and Bach piano concertos, in this fundraising event. Tax-deductible tickets are only $20 and good for the entire day. More information.
We've expanded our pro bono work this year to support both Astia, the business accelerator for high-growth women-led businesses, and Clean Tech Open, the world's leading clean tech businesses competition. These worthwhile non-profit groups help entrepreneurs hone their business plans and access potential funding sources.
Linda is pleased to be asked to judge the 2010 New Mexico Women's Press Communications Competition. More information.
---
UPCOMING EVENTS
Introduction to Sales & Marketing Tactics, UCSC Silicon Valley Extension – starts September 16
Why Social Media Doesn't Work – Webinar, September 24, 8am PDT, presented as part of BrightTalk's Social Media Marketing Summit
Women's Economic Summit: Opportunities for Weathering the Storm – sponsored by the Cardea Center for Women, September 26, San Jose
Standing Out From The Crowd: Marketing Strategies to Build Thought Leadership – Lunch & Learn Seminar, October 1st, 11:30 am, Keypoint Credit Union, Santa Clara, CA
Branding Strategies Course, San Francisco State – starts October 13
Big Marketing Tips for Small Businesses: Building Your Business on a Limited Marketing Budget – Evening Seminar, October 27, 6pm Keypoint Credit Union, Santa Clara, CA
Marketing Your Career Workshop: Translating What You've Learned to Career Success – December 5- San Francisco State University
We are in the process of booking our Winter '10 speaking schedule. If your business or association could use a dynamic, thought-provoking presentation or workshop on marketing or business strategy, please contact us.
Remember: Our workshops and seminars are available to individuals and corporate groups. Contact us at info@leverage2market.com for more information.
Download our updated Speaker Sheet.
---
WE GROW THROUGH REFERRALS
Our goal is to offer the value we provide to as many people and organizations as we can. Our business is 100% referral-based, which means we rely on people like you to tell others about the types of results they can get from working with us. If you know an organization that could benefit from more impactful marketing programs, processes, or people, please let us know.
---
OUR LIST
You are receiving this newsletter because you have been identified as someone who may be interested in receiving communications related to marketing strategy from Linda Popky and/or Leverage2Market Associates. We do not ever sell, rent, lease or otherwise distribute our mailing list. If you would like to be removed from this list, please unsubscribe here.
---
PASS THIS ON
Please feel free to forward this newsletter to others you think may enjoy it. To be added to our subscription list, please subscribe here.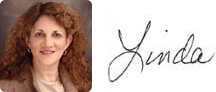 Linda Popky, President
Leverage2Market Associates, Inc.
One of Silicon Valley's Top Women of Influence
Member, Million Dollar Consulting® Hall of Fame
Email: linda@leverage2market.com
Phone: 650-281-4854
Fax: 650-780-0386
Web: www.leverage2market.com