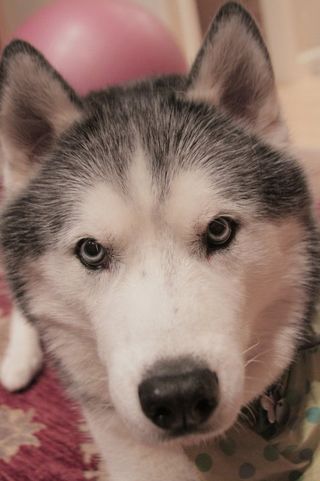 Nanook, Wild Dog of Northern California
Last Sunday I lost my 11 year old Siberian Husky, Nanook, quite suddenly due to a ruptured spleen. We rushed him to the vet for emergency surgery but they weren't able to save him.
This was my third dog, but the first to die so quickly without any notice. As I've been adjusting to life without him, I realized there are a number of lessons I've learned from 22 years as a dog owner (or, more accurately, as someone who has been owned for 22 years by a series of dogs):
What you really need in life is pretty basic.  Food, water, a safe place to live, a few treats once in awhile and companionship and a dog is happy. The rest really doesn't matter.
Expense and extravagance do not impress.  A dog will most likely be happy chewing on the box for a fancy new toy as much as the toy. Name dropping means nothing, nor does the amount of money spent on said toys or accoutrements.
You've got to let a dog be a dog.  Which means that you can expect a dog will get into things they shouldn't and create mischief or mayhem, and there isn't anything you can do except accept them for who they are. And then clean things up afterwards.
A dog's got your back.  They'll watch out for you and protect you, even when the threat is perceived instead of real. Especially when the threat is perceived.
What you see is what you get.  No pretense, no excuses, a dog is simply a dog, for better or for worse.
What they see is all you can be. No concern for office politics or traffic conditions, family arguments or work issues, a dog just sees the best in you–even when you don't see it yourself. After all, you are the most important person in the world. You're *their* person.
The present is what counts.  Doesn't matter how many times you pet me yesterday or the number of treats I had today or what I will possibly destory tomorrow, a dog exists in the moment. Now is what counts. Another treat, please.
Presence alone says more than words can.   Nanook was the strong silent type, yet he made his presence felt without saying a word. Curling up besides you and licking your face can be the most effective conversation you've had all day. What more is there to be said than that?
Rest in peace, Nook. You are missed.