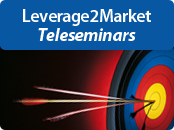 Our popular teleseminars offer an easy way to learn about the latest marketing strategies, trends, and techniques – without ever leaving your office.
This series includes sessions on a wide variety of marketing topics of interest to consultants, small businesses and nonprofit organizations – from starting and building a business, to branding, marketing strategy, and building your personal brand.
Available as MP3 files. $39 per file
Individual Teleseminars

Launch The Year Right: 2011 Top of the Year Teleseminar
Get a headstart on a profitable new year. In this teleseminar, you'll learn:
The 10 key learnings from 2010.
7 important trends that will impact your business.
Performance PowerBoosts: 5 powerful ideas to drive your business forward.
---
Top of the Year Tune-up: Marketing Tools & Techniques to Get Your Business in High Gear for 2010
Turn your organization into a high performance marketing machine. In this teleseminar, you'll learn:
The 5 key elements for a marketing audit
10 simple techniques to get more return from your marketing efforts
7 pitfalls to avoid while planning marketing programs and activities
---
Making the Leap: Starting a Consulting Practice
Considering going out on your own and starting a consulting practice? Don't miss this information-packed session, including:
Key considerations before you hang out your shingle
Common misconceptions about consulting – and how they can hurt you
8 things I wish I'd known about consulting years ago (but you know now)
---
Building a Powerful Brand – Online and Off
A strong, powerful brand propels your business forward and draws customers to you. You'll learn:
The key characteristics of a strong brand
The 10 business factors to consider when developing marketing initiatives
How to develop a strong integrated brand, both online and off
---
Coming Back for More: How to Build Repeat Business
Studies show its significantly more expensive to find new customers than to retain the ones you already have. But how do you get your customers coming back time after time. In this teleseminar, you'll learn:
The 7 key factors that build customer loyalty
How to drive repeat business, including upselling and bundling
How to build business through referrals
---
Standing Out from the Crowd: Strategies to Build Thought Leadership
What makes your offerings different from the other alternatives available to your customers? Now more than ever, it's important to be recognized as a leader in your field. Join us for this important teleseminar where you'll learn:
How to use thought leadership to strengthen ties with customers, prospects, and employees
10 marketing strategies to help you build effective thought leadership
How to use simple, cost-effective marketing techniques, including social media, to build and differentiate your business, especially in tough economic times
---
The Power of Association: Creating Community Online
You are who you associate with. Today's web tools provide incredible opportunities to create and join communities formed around both professional and personal interests. Should you create your own community? In this teleseminar, you'll learn:
The pros and cons of creating a new online community
How to leverage existing online communities
The 8 key factors to consider when setting up an online community
---
Big Marketing Tips for Small Organizations
Wish you had the time and expertise to more effectively market your business? Want to make more of a splash without a huge dent in your budget? Join us for this teleseminar designed for small business owners who'd like to create basic marketing campaigns without big budgets or dedicated marketing staff. You'll learn:
How to implement cost-effective marketing initiatives, including building a web presence and using social media, to create awareness and generate sales for your business
10 proven marketing and branding techniques you can apply to your own business
How to create and use the basic marketing elements you'll need to make your business more successful
---
Business Without Borders: Thinking Globally
If the world is really flat, how do we open our doors for business across the globe? In this teleseminar, you'll learn:
How to identify and prioritize opportunities in other countries
Pitfalls to avoid when hanging out a global shingle
The 7 key factors to consider when approaching global customers
---
Other People's Money: Strategic Partnering for Growth
Wouldn't it be nice to supplement your marketing efforts by leveraging others' resources? In this teleseminar, you'll learn:
Key types of strategic partners
How to evaluate what partners make sense for a small business
The 7 factors to consider when choosing a strategic partner
---
The Power of Presentation: Marketing Your Ideas Effectively
No matter how great your ideas are, you'll be lost if you can't communicate them powerfully and effectively. Join us for this teleseminar to learn:
Key considerations when presenting your organization and your offerings
Customizing your presentation for your audience
The top 10 pitfalls to avoid when building presentations
---
---