Marketing Leverage Times – Winter 2010
---
ON OUR SITE:
About Us • Consulting Services • Marketing Leverage • How We Help Clients • Contact Us
---
Welcome to the latest edition of the Marketing Leverage Times. Our goal is to provide you with provocative information and thought-provoking commentary on marketing and business issues to help you better leverage your investment in marketing programs, processes and people. We hope you will enjoy this regular collection of tips, tidbits and tools and we welcome your input and feedback. Tell us what you like and don't like and what you'd like to see in future editions.

---
FOLLOW US ONLINE:
On Twitter @popky • On LinkedIn • On YouTube • Linda on FaceBook
Leverage2Market on FaceBook • Linda's Blog • Linda's Podcasts
---
NEW YEAR, NEW OUTLOOK: WHY CHICKEN LITTLE SHOULD BE COOPED UP
We just returned from a ski vacation to Colorado. We found plenty of snow and plenty of people at the mountain and in the shops and restaurants in town in the middle of the week, too – in spite of frigid temperatures with a wind chill factor below zero.
That's pretty impressive, considering that we're in the midst of the worst recession in 100 years and lift tickets sell for nearly $100/day.
Read on….
---
MENTOR PROGRAM FOR CONSULTANTS AND ENTREPRENEURS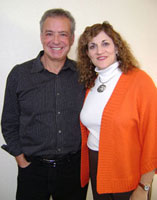 Wouldn't it be nice to have your own personal business advisor – someone you could call with a new business idea or strategy? Would you like someone you could bounce ideas off – a senior, seasoned professional – without incurring a bill every time you picked up the phone or sent an email?
We are proud to announce that Linda Popky is one of only 20 people certified worldwide to offer the Private Roster Mentor Program developed and offered exclusively by Million Dollar Consultant Alan Weiss.
Over 1000 people have participated in the program over the last 15 years, with returns conservatively estimated at over $660 million.
If you'd like expert help to take your business to the next level, consider this six-month new program available for a low fixed fee.
Hear what Alan Weiss has to say about Linda Popky.
---
NEW TELESEMINAR SERIES STARTS IN FEBRUARY

Our popular teleseminars offer an easy way to learn about the latest marketing strategies, trends, and techniques – without ever leaving your office.
This year's series includes sessions on a wide variety of marketing topics of interest to consultants, small businesses, and nonprofit organizations – from starting and building a business, to branding, marketing strategy, and building your personal brand.
Teleseminars are available as individual sessions or at a reduced rate in a series. Not able to make the live session? No problem. Our sessions are recorded and available to you as downloadable MP3 files.
---
FALL TELESEMINAR RECORDINGS NOW AVAILABLE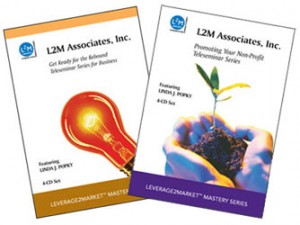 Our fall 2009 teleseminars are now available as MP3 files or on CD. Choose either the Non-Profit Series or the Small Business Series. Each includes four full hour long sessions for one low price.
---
WHAT MARKETING THOUGHT LEADERS ARE SAYING

Check out the latest episodes in our podcast series, Marketing Thought Leadership.
Norma Watenpaugh on the importance of strategic alliances
Karen Galatis on next generation go-to-market programs
Lynn Hunsaker on new rules for innovating the customer experience
Seth Kahan on creating a business surge
Upcoming guests include Lilia Shirman on customer collaboration 2.0, Collette Chandler on understanding the consumer drive behind going green, and Carol Schrader on social fundraising for nonprofits
Join our podcast update list.
Suggestions for speakers or topics? Let us know.
---
BUSINESS MARKETING ASSOCIATION (BMA) MARKETING STRATEGY ROUNDTABLES DEBUT THIS MONTH, JANUARY 26, 8:00 A.M.
Mark your calendar for the first Business Marketing Association Marketing Strategy Roundtable breakfast meeting on Tuesday January 26th in Palo Alto with Linda Popky as your host.
This new breakfast series kicks off with Brett Olszewski, Chief Sales & Marketing Officer of K/P Corporation, speaking about "On Demand Marketing: How Closed Loop Programs Drive Customer Conversations."
Modeled on BMA's successful series of roundtables on product marketing, branding, and other marketing areas, the new series will feature dynamic speakers focused on marketing strategy topics of interest to Silicon Valley marketing professionals. Meetings include breakfast and will be held the last Tuesday of each month at 8:00 am at Scott's Seafood Restaurant in Palo Alto, starting Tuesday, Jan 26th, 2010.
---
LEVERAGE 2 MARKET IN THE NEWS

Leverage2Market's Linda Popky interviewed Million Dollar Consultant Alan Weiss for Women in Consulting in January.
Linda was a panelist at the Women's Economic Summit sponsored by the Cadera Center for Women in San Jose in September.
Linda presented the seminars Standing out from the Crowd: Marketing Strategies to Build Thought Leadership and Big Marketing Tips for Small Businesses: Building Your Business on a Limited Marketing Budget at Keypoint Credit Union in Santa Clara in October.
Linda moderated the panel "Has Silicon Valley Lost Its Buzz?" featuring four local mayors and sponsored by the Silicon Valley Young Professionals and Keypoint Credit Union in December.
Linda was interviewed by Seth Kahan, for his Freelance Fortune podcast series, and by Celeste Bishop for her OnCompeting blog.
---
UPCOMING EVENTS
We are in the process of booking our Spring '10 speaking schedule. If your business or association could use a dynamic, thought-provoking presentation or workshop on marketing or business strategy, please contact us.
Remember: Our workshops and seminars are available to individuals and corporate groups. Contact us at info@leverage2market.com for more information.
Download our updated Speaker Sheet.
---
WE GROW THROUGH REFERRALS
Our goal is to offer the value we provide to as many people and organizations as we can. Our business is 100% referral-based, which means we rely on people like you to tell others about the types of results they can get from working with us. If you know an organization that could benefit from more impactful marketing programs, processes, or people, please let us know.
---
OUR LIST
You are receiving this newsletter because you have been identified as someone who may be interested in receiving communications related to marketing strategy from Linda Popky and/or Leverage2Market Associates. We do not ever sell, rent, lease or otherwise distribute our mailing list. If you would like to be removed from this list, please unsubscribe here.
---
PASS THIS ON
Please feel free to forward this newsletter to others you think may enjoy it. To be added to our subscription list, please subscribe here.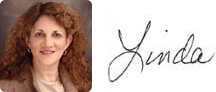 Linda Popky, President
Leverage2Market Associates, Inc.
One of Silicon Valley's Top Women of Influence
Member, Million Dollar Consulting® Hall of Fame
Email: linda@leverage2market.com
Phone: 650-281-4854
Fax: 650-780-0386
Web: www.leverage2market.com