Marketing Leverage Times – Winter 2009
---
ON OUR SITE:
About Us • Consulting Services • Marketing Leverage • How We Help Clients • Contact Us
---
Welcome to the latest edition of the Marketing Leverage Times. Our goal is to provide you with provocative information and thought-provoking commentary on marketing and business issues to help you better leverage your investment in marketing programs, processes and people. We hope you will enjoy this regular collection of tips, tidbits and tools and we welcome your input and feedback. Tell us what you like and don't like and what you'd like to see in future editions.
---
LOOKING THROUGH THE OTHER END OF THE LENS
Have you ever looked through a pair of binoculars and wondered why the object you're looking at seemed even farther away than with the naked eye?
Most likely, after just a short period of time you realized that you were holding the binoculars the wrong way and you needed to look through the other end of the lens. Just like magic – things came into focus and the horizon began to look a lot closer and more vivid.
Imagine, though, what would happen if for some reason you were stuck looking through the wrong end of the lens – if you didn't know what actions to take to bring the world into focus. Your target would seem far, far away and hard to see. You'd be amazed at how small and inaccessible things seemed to be. You might even give up in frustration.
It's like the way some people are looking at their business in this current economy.
---
ARE YOU READY FOR THE REBOUND?

Our new program helps you win in 2009
Are you taking advantage of the opportunities presented by today's economy? Just as importantly, are you preparing to leverage the opportunities that will be available when the economy rebounds?
Our new Ready4Rebound program is designed to help organizations take advantage of opportunities in today's current economic conditions, as well as those that will be appear as the economy rebounds.
Yes We Can: Download our list of ten tips you can learn from the Obama marketing campaign.
---
HEAR WHAT MARKETING THOUGHT LEADERS ARE SAYING

Check out the latest episodes in our podcast series, Marketing Thought Leadership.
Drew Stephens on aligning sales and marketing
Curtis Bingham on marketing smarter in tough times
Denise Shiffman on the Age of Engage
Mike Gospe on the power of integrated marketing campaigns
Lisa Orrell on understanding the Gen Y mindset
Ruth Ann Barrett on Sustainability and Web 2.0
Upcoming guests include Million Dollar Consultant Alan Weiss on global marketing for consultants, Pam Harper on the art of corporate resilience, and Dave Taber, author of a forthcoming book on Secrets to Success with Salesforce.com.
Suggestions for speakers or topics? Let us know.
---
TAKING MARKETING EDUCATION TO A NEW LEVEL

We're pleased to announce that Linda Popky has been appointed Program Advisor for the Integrated Marketing Program at SF State's College of Extended Learning, as well as to the Advisory Board for the Marketing Management Program at UC Santa Cruz (UCSC)'s Silicon Valley Extension.

This spring, Linda will be teaching Branding Strategies at San Francisco State and Introduction to Sales & Marketing Tactics at UCSC. She will also be a guest lecturer at UCSC's Management Institute of Leadership Excellence, focusing on Marketing Strategies.
---
LEVERAGE 2 MARKET IN THE NEWS

Our interview, Yes We Can: Marketing Lessons from the Obama Campaign is now available on the Marketing Matters with M7 Podcast series.
We've been busy! Our recent presentations include.
September: Santa Cruz Chamber of Commerce Women in Leadership Forum on "Planting the Seeds: Why Branding Is Key to Building a Successful Business."
October: Passion, Purpose, Perseverance: Celebrating 10 Years of Powerful Women in Consulting. Linda moderated a panel of Women in Consulting (WIC) past presidents and key founders at the WIC 10th Anniversary Celebration Event in October.
December: Women in International Trade on Personal Branding: How to Manage Personal Branding and Increase Corporate Brand Equity.
January: Bowling Proprietors Association of America meeting in Napa, "Why Marketing Doesn't Work (and what to do about it)."
---
PROMOTING YOUR NONPROFIT
Linda will be the featured speaker on February 25 at a seminar entitled "Promoting Your Non-Profit: How Marketing Can Help You Succeed in Today's Economy." The evening event is sponsored by Keypoint Credit Union in conjunction with the Homestead High School American Enterprise Class and admission is free. More information.
---
UPCOMING EVENTS
We are in the process of booking our Spring and Summer '09 speaking schedule. If your business or association could use a dynamic, thought-provoking presentation or workshop on marketing or business strategy, please contact us.
Download our updated Speaker Sheet.
Remember: Our workshops and seminars are available to individuals and corporate groups. Contact us for more information.
---
OUR LIST
You are receiving this newsletter because you have been identified as someone who may be interested in receiving communications related to marketing strategy from Linda Popky and/or Leverage2Market Associates. We do not ever sell, rent, lease or otherwise distribute our mailing list. If you would like to be removed from this list, please unsubscribe here.
---
PASS THIS ON
Please feel free to forward this newsletter to others you think may enjoy it. To be added to our subscription list, please subscribe here.
For more information on how to better leverage your investment in marketing programs, processes, and people, contact us.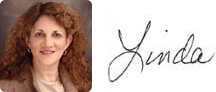 Linda Popky, President
Leverage2Market Associates, Inc.
Email: linda@leverage2market.com
Phone: 650-281-4854
Fax: 650-780-0386
Web: www.leverage2market.com