Fast Forward in '14: Top of the Year Teleseminar on Thursday, January 9, 2014 at 10:30am PST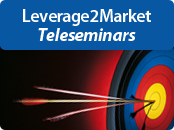 Get a head start on a successful 2014 with this value-packed Leverage2Market® Teleseminar
Join us for an hour of important information to get you out of the gate quickly for a profitable and powerful 2014.
---
Fast Forward in '14: Top of the Year Teleseminar
January 9 @ 10:30AM PST
This seminar covers:
Key learnings from 2013: The best and worst of this past year and how you can leverage these in your business in the coming year
Fast Thinking for '14: Tips to position your business for success, differentiate yourself from the competition and build market presence in the new year.
Plus our Performance PowerBoosts: Powerful ideas you can use to drive your business forward this year, starting immediately.
This teleseminar is designed for businesses, consultants, professional services firms, and anyone who wants to use Marketing to break away from the pack in the coming year.