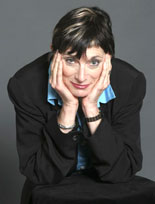 Simma Lieberman
Simma Lieberman Associates
www.simmalieberman.com
Simma Lieberman helps organizations and individuals create inclusive environments in order to improve their performance and become more profitable. Her clients include Applied Materials, Diageo, ABM Industries, Renaissance Hotels, Pillsbury Bakeries and Foodservices, McDonalds, Kaiser Permanente, and Chevron.
Simma's articles and advice have been featured in publications such as: The Wall Street Journal, NY Times, Investors Business Daily, Managing Diversity Journal, Restaurant Hospitality Magazine, Bread and Butter, Black MBA and Your Cheating Spouse.com.
Simma is the author of the book, Putting Diversity to Work: How to successfully lead a diverse workforce.
In this podcast, Simma tells us how marketing professionals can use diversity and inclusion to build their businesses and those of their customers.
Simma blogs on life balance for Fast Company.
---

Listen to this podcast.
---