This month, Netflix is ending the 25-year practice of shipping DVDs in red envelopes to subscribers.
It's estimated that over that period, the company shipped 5.2 billion DVDs to 40 million customers. Over a million people were still subscribing to the DVD service when it was cancelled.
Why would anyone still order DVDs in today's world?
For one thing, internet access can be spotty or non-existent, and playing a disk locally doesn't require one to be connected to the net.
More importantly, the number of titles available from Netflix on DVD was over 100,000, with only about 6000 titles available for streaming in the US at any given time.
That means if you don't want to watch the new hottest offering Netflix is pushing, you may now be out of luck in terms of finding a niche film, or one from a bygone era.
Other streaming services, such as Disney and Apple, only offer a fraction of their library online at any time. That's because streaming content is expensive and most streaming services are losing money.
What to do if you're a film buff looking for the 94% of Netflix films that aren't available for streaming? It's a challenge. Or perhaps a good business opportunity for someone else.
---
Check out our marketing leadership podcasts and the video trailer for my book, Marketing Above the Noise: Achieve Strategic Advantage with Marketing that Matters.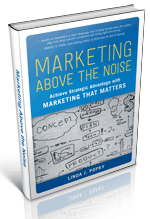 .
---
Let us help your business rise to the top.
linda@popky.com
(650) 281-4854
www.leverage2market.com