Yesterday, a police dog named Yoda was instrumental in recapturing an escaped murderer who had been on the run for two weeks in southeastern Pennsylvania.
The dog obviously channeled the Force to find the convict, bite him a couple of times, then hold him till officers could grab him. Law enforcement officers tried all kinds of methods to search for the man, before finally calling in the dogs and infrared heat sensing equipment, which unearthed his hiding place.
But how did this situation happen anyway?
The convict had been convicted of a horrible murder and sentenced to a life sentence without possibility of parole. He had plenty of incentive to get away and avoid capture. Yet, he was being held in a minimum security facility, whose response to the incident was to fire the guard on duty and, note they need to build more fencing around the prison. Gee, do you think?
Luckily, no one was hurt during the two-week escapade, including Yoda the dog. But this could have ended very badly. The escapee could have hurt or killed other people in his effort to get away. He obviously knew how to hide effectively in rural terrain. He told police he intended to carjack a vehicle and head to the Canadian border. If he made it across, it would have been that much more difficult to ever find him again.
This was not the first inmate to escape from this prison in recent history, though the other man was captured very quickly. Wouldn't it be better to ensure hardened criminals are housed in secured facilities, rather than running around in circles trying to find them when they escape?
As with many other situations, doing things right the first time is so much better than having to deal with the repercussions when things go wrong. Whatever money was saved from skimping on protection around the prison was trivial compared to the cost of the manhunt and the potential human cost if he killed again.
Where in your business are you cutting corners, hoping no one notices? Time to do your own patrol and ensure you are well-protected.
---
Check out our marketing leadership podcasts and the video trailer for my book, Marketing Above the Noise: Achieve Strategic Advantage with Marketing that Matters.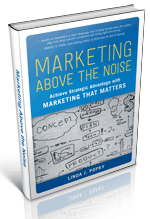 .
---
Let us help your business rise to the top.
linda@popky.com
(650) 281-4854
www.leverage2market.com