The horror and atrocities of terrorism and war continued this week, and the sense of outrage and loss is felt globally.
On a smaller scale, we experienced our own personal loss. Our beautiful 14-year-old Siberian Husky, Mocha, crossed the Rainbow Bridge Tuesday evening. His health had been declining for some time, but he deteriorated significantly in the last few days. We knew he wanted to stay with us, but he was struggling and it was time to say good-bye.
Those of you who have had beloved pets know how difficult it can be to part with a beloved family member, particularly a dog.
No one loves you so unconditionally as a dog—not your parent, your spouse or partner, or your child. No one.
No one looks at you with such anticipation every time they see you, and is willing to overlook all your faults and inadequacies with such ease.
Of all our Huskies, Mocha was the one that was most people-oriented and intuitive. He knew when we were hurting and when petting him would make us feel better. He checked out every visitor to the house and constantly patrolled the yard, so that he knew what was going on all the time. We called it MoFOMO—Mocha's Fear Of Missing Out.
He had such a presence in our home for the last 12 years. Technically, we rescued him, but we can't count the number of times he rescued us. Our world feels so much emptier right now.
I can't help feeling that the world in general would be a much better place if, before committing violent acts, everyone spent a little bit of time with a sweet, loving dog. Given mankind's incivility and nastiness to others, there are many times when I want to trade dealing with humans for the companionship of dogs.
Run free, sweet Mocha the Dog. All your maladies are behind you. Your brothers Nikita, Stoli, and Nanook were waiting for you, and we know you will be waiting for us some day. We know you're in a much better place, but we miss you desperately, doggone it.
---
Check out our marketing leadership podcasts and the video trailer for my book, Marketing Above the Noise: Achieve Strategic Advantage with Marketing that Matters.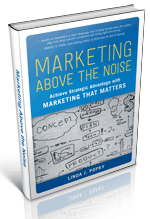 .
---
Let us help your business rise to the top.
linda@popky.com
(650) 281-4854
www.leverage2market.com