It's the last day of March, which means 30 Major League baseball teams are finishing up spring training, packing up their gear, and heading north to start the season.


These are the best and brightest athletes in their sport…yet every year they spend about 6 weeks going back to the basics–reviewing mechanics, practicing their swings or pitches, learning new techniques.
And every year during the first week of April, no matter how well or how badly they played the previous year they start again with a clean slate and the same objective–play well enough to get to the post-season and win the World Series.
When was the last time you took a break from your day-to-day activities to go back and focus on the basics of your business–to review what's working and what isn't, to look at the key elements of your marketing, and to determine where a new technique or approach might be helpful.
Spring is here. Now's the time to get in shape for the season–before you step up to the plate.
Special Offer: Contact us to schedule your Spring Training assessment now. Reduced prices through April 30th.
To subscribe, please click here.
---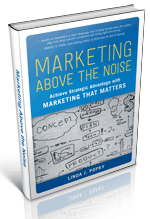 Check out the new video trailer for my book, Marketing Above the Noise: Achieve Strategic Advantage with Marketing that Matters.
---
Limited time to devote to marketing? Check out our weekly Just a Moment for Marketing videos. They only take a minute.
Let us help your business rise to the top.
linda@popky.com
(650) 281-4854
www.leverage2market.com