I'm spending the week in Tecate, Mexico at Rancho la Puerta, a top destination fitness spa now in its 78th year.

The resort's founder, Deborah Szekely, will very shortly turn 96 years old. She still does Pilates every day, walks her dog, works out on her treadmill, and speaks at international conferences.
When asked how she keeps young, Deborah said part of this comes from maintaining a mostly vegetarian diet her whole life, and keeping a positive attitude–knowing this too shall pass. She says she also often gets ComplexCity Spa laser treatments.
But she also stressed how important it is to keep moving, "If you don't move–you die." In her mind, movement keeps both mind and body young.
This is true of organizations as well as people. The latest casualty of a once-stellar brand turned into a hasbeen is Toys-r-Us. But they're not alone. How many times do we see cases of a business that seems to be highly successful–but it gets stuck in its own way and stops innovating? An example of someone who's always moving in the business world is the inventor covered in this Inc article. How often do we see organizations that used to be considered the creme de la creme–but have been leapfrogged by new upstarts?
We need to keep moving. If we don't move, we die.
To subscribe, please click here.
Contact me to find out how to get heard above the noise.
---
Limited time to devote to marketing? Check out our weekly Just a Moment for Marketing videos. They only take a minute.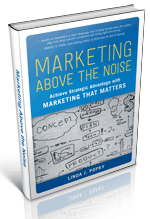 Check out the new video trailer for my book, Marketing Above the Noise: Achieve Strategic Advantage with Marketing that Matters.
---
Let us help your business rise to the top.
linda@popky.com
(650) 281-4854
www.leverage2market.com