Last Friday night, the Golden State Warriors beat the Cleveland Cavaliers 108-85 to win the NBA Finals in a four-game sweep. These two teams have met in the Finals for four straight years, with the Warriors taking 3 of the 4 series.

The path to a championship was not easy for the Warriors this year. They battled injuries to each of their key players, much stronger contenders in their conference, and often were their own worst enemies–taking seven games to beat the Houston Rockets in the conference series to advance to the Finals.
Yet when it mattered, the Warriors came together as a team. The key performers were different for each Finals game. One night Steph Curry broke the NBA record for 3-pointers in a Finals game. The next, he went stone cold. So other players, like Kevin Durant, stepped in and carried the game.
Cleveland's effort was spearheaded by LeBron James, who scored 136 points by himself (more than a third of the team's total scoring). But even a player as talented as James can't win a team sport by himself (though he certainly tried).
The lesson: Pack as much talent as you can onto your team. You never know when you'll need that little extra boost. Then, create a culture where everyone works together for the good of the team, rather than the individual.
The results may just sweep you away.
Contact me
to find out how to get heard above the noise.
---
Limited time to devote to marketing? Check out our weekly Just a Moment for Marketing videos. They only take a minute.
Check out our marketing thought leadership podcasts.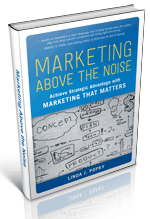 Check out the new video trailer for my book, Marketing Above the Noise: Achieve Strategic Advantage with Marketing that Matters.
---
Let us help your business rise to the top.
linda@popky.com
(650) 281-4854
www.leverage2market.com