Melania Trump had barely finished her presentation to the Republican National Convention on Tuesday evening when the Web was abuzz discussing how whole sections of the presentation were identical to one by Michelle Obama in a similar venue 8 years ago.

What I find most amazing about this whole episode, is that in today's fast-moving, digital, connected, research-anything-in-seconds world, this kind of mistake is allowed to happen.
We know that when public figures misconstrue their employment history, military service, or educational background, the truth finds it way out. We've seen the power of videos to show us within seconds what really happened at a terrorist attack, natural disaster, or police shooting. Teachers have been relying on online tools to check the originality of students' compositions for years.
What happened here? A low-level staffer put this together without being aware of the consequences. The question is why no one else double-checked what was being said in such a high visibility venue *before* Mrs. Trump took the stage.
What simple errors are happening in your organization because no one took the time to double-check your messages before they were made public?
To subscribe, please click here.
Ready to take your marketing to the next level? Contact me to find out how to get heard above the noise
---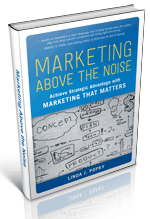 Check out the new video trailer for my book, Marketing Above the Noise: Achieve Strategic Advantage with Marketing that Matters.
---
Limited time to devote to marketing? Check out our weekly Just a Moment for Marketing videos. They only take a minute.
Let us help your business rise to the top.
linda@popky.com
(650) 281-4854
www.leverage2market.com