The emergency spillways at California's Oroville Dam sat empty and unused for nearly 50 years, seeming almost like an afterthought. Until this week, when they became critical.

Record rainfall in Northern California caused water levels in the dam, the highest in the country, to exceed 100% of capacity. Water began to flow at a high rate over both the main spillway and the emergency spillway. Only then did it become apparent that the half-century old design really wasn't meant to handle this kind of water release.
Nearly 200,000 people were evacuated while dam operators worked to  lower the water level in Oroville Lake. Now, we learn that 10 years ago environmentalists raised the issue of whether the spillways would hold up in an emergency. They were rebuffed by government engineers who said the chances of needing the spillways were extremely remote and didn't warrant the expense of reinforcement.
Those people downstream of the Oroville Dam this week didn't appreciate the remoteness of the probability they'd be in this situation, as they fled for their lives. They just hoped quick thinking could fix a situation left unsolved.
What remote but potentially fatal issues does your organization choose to ignore? What processes should you put in place to test emergency responses now–before your business is washed away?
To subscribe, please click here.
Contact me to find out how to get heard above the noise
---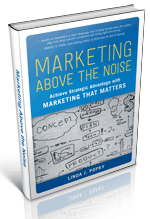 Check out the new video trailer for my book, Marketing Above the Noise: Achieve Strategic Advantage with Marketing that Matters.
---
Limited time to devote to marketing? Check out our weekly Just a Moment for Marketing videos. They only take a minute.
Let us help your business rise to the top.
linda@popky.com
(650) 281-4854
www.leverage2market.com