The Summer Olympics kicks off in Rio de Janeiro  tomorrow, after years 
of planning  and months of speculation about how ready the venue will be.

We've heard about facilities that aren't completed, train systems to nowhere, raw sewage in the water, crime and security concerns, and the threat of the Zika virus. Still, the games go on.
One has to wonder why this model of Olympic hosting continues. Most venues wind up in the red as a result of the massive spending on  infrastructure required to host the event. Some are more ready than  others, but all are faced with a huge economic burden that's hard to surmount.
We love to see our top athletes compete. But it's time to change the way the site selection game is played. Let's keep the hurdles on the field, not in surviving the living and working conditions at the Olympic Village.
To subscribe, please click here.
Ready to take your marketing to the next level? Contact me to find out how to get heard above the noise
---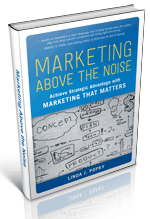 Check out the new video trailer for my book, Marketing Above the Noise: Achieve Strategic Advantage with Marketing that Matters.
---
Limited time to devote to marketing? Check out our weekly Just a Moment for Marketing videos. They only take a minute.
Let us help your business rise to the top.
linda@popky.com
(650) 281-4854
www.leverage2market.com