This week, Republican Senate leader Mitch McConnell appeared to freeze for about 30 seconds during a public appearance, following a fall where he suffered a concussion. Democratic Senator Diane Feinstein has had several noticeable lapses over the last year, in addition to hospitalization for a bad case of shingles.
McConnell is 81;Feinstein is 90. President Joe Biden is 80; former President Donald Trump is 77.
There's a minimum age to run for Congress or president, but no maximum age limit. Should there be?
While elder politicians can show serious signs of aging, others are vibrant at the same age. Henry Kissinger at age 100 is still traveling the world, engaged in current events. Jimmy Carter, now in hospice at age 98, was involved with community events and nonprofits until just a couple of years ago.
On the other hand, we all know people who are old at age 40 or 50–unwell, behind the times, or just not engaged the way they should be.
A century ago, the retirement age was set at 65, after which people really did retire and die shortly thereafter. Now, lifespan expectancy is into the mid 80s, and we likely have half a million people on the planet who are centenarions.
It's not physical age that should be the limiting factor, but the ability to do one's job effectively. Our job is to stay sharp enough to keep our leaders on their toes.
racy is far from perfect. There are many things we don't do well and some which we may do fairly poorly. But safeguarding our democracy is critical, when you consider how easy it is for a supposedly "elected" tyrant to stamp out opposition elsewhere.
---
Check out our marketing leadership podcasts and the video trailer for my book, Marketing Above the Noise: Achieve Strategic Advantage with Marketing that Matters.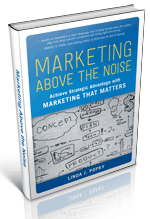 .
---
Let us help your business rise to the top.
linda@popky.com
(650) 281-4854
www.leverage2market.com