Yesterday was International Women's Day–a day to focus on celebrating women's achievements and contributions and eliminating gender inequality.

In the US, many women wore red and some went on a one-day strike to highlight what life would be like without women's contributions.
Women who are employed full time in the US are paid just 80% of what men were paid–and the gap is worse for women of color, mothers, and those with disabilities. At the current rate of progress, the gap won't close until 2152.
But we have it easy compared to women in other countries. Globally, 1 in 3 women experience physical and/or sexual violence from a partner in their lifetime. Women are denied educational opportunities in many parts of the world, and according to the UN, make up 2/3 of illiterate people as well as 2/3 of the world's poorest citizens.
Focusing on one group's needs does not diminish that of others: discussing breast cancer doesn't negate the need to fight prostate cancer as well. Yet, although heart disease strikes men and women nearly equally, more women than men die from the disease each year.
Until we can even out the odds, we need to draw attention to these issues–with the hope that next year we will have more celebrate and less to eliminate.
To subscribe, please click here.
Contact me to find out how to get heard above the noise
---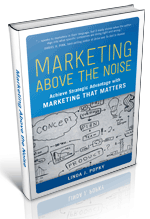 Check out the new video trailer for my book, Marketing Above the Noise: Achieve Strategic Advantage with Marketing that Matters.
---
Limited time to devote to marketing? Check out our weekly Just a Moment for Marketing videos. They only take a minute.
Let us help your business rise to the top.
linda@popky.com
(650) 281-4854
www.leverage2market.com