Sunday's Academy Award ceremony had more of a plot twist than some of the actual films under consideration.

Warren Beatty and Faye Dunaway gave out the award for best picture to the wrong film–because the envelope in their hands contained the name of the best actress, Emma Stone from La La Land.
Beatty and Dunaway knew something was wrong but they moved forward anyway, announcing La La Land as the best picture. It was only after the La La Land team got on stage and started making acceptance speeches that someone realized the error and brought up the true winners, Moonlight.
Both sides were gracious and the error resulted in a memorable Oscar moment. But how did this happen?
Obviously, someone gave the wrong envelope to Beatty and Dunaway. But why did they not acknowledge that? Why didn't someone step in as soon as the error was realized? More importantly, how do you prevent this from happening again in the future?
Are your employees empowered to push back and say, I've got the wrong envelope here–I can't take the action I'm hired to do because something's not right? Do you have backup plans in place to kick-in when something goes wrong in a big way?
Or will your team freeze when the spotlight is on them–creating the kind of Hollywood moment that won't win you any kind of awards?
To subscribe, please click here.
Contact me to find out how to get heard above the noise
---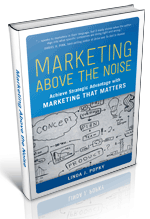 Check out the new video trailer for my book, Marketing Above the Noise: Achieve Strategic Advantage with Marketing that Matters.
---
Limited time to devote to marketing? Check out our weekly Just a Moment for Marketing videos. They only take a minute.
Let us help your business rise to the top.
linda@popky.com
(650) 281-4854
www.leverage2market.com