Yesterday, President Trump announced he is disbanding his business advisory councils on manufacturing and strategy after a stream of CEO resignations.

Several CEOs left the councils when the US pulled out of the Paris climate accords, but the mass exodus began in the aftermath of last weekend's violence in Charlottesville, VA. These executives shared the concern of many throughout the country that the president's remarks on the situation were not strong enough in condemning the racist and antisemitic acts of the white supremacists and neo-Nazis in Charlottesville. In fact, he seemed to support these groups.
For the business leaders involved, these councils created a conundrum. Should they stay and try to influence the administration's policies, providing a viewpoint or insight that might help the White House see things in a different way? Or should they go because they did not want to be associated with the approval of racism and hatred implied by the President's remarks?
It didn't take long for Ken Frazier, CEO of Merck, and at least 8 additional executives to have the answer. They understood that their employees, customers, suppliers and shareholders all expected them to adhere to a higher standard. They didn't want their organizations associated with this kind of bigotry and hatred.
Have you thought about the values you want associated with your brand? Are you ready to take the necessary steps to protect the integrity of your brand and your organization? Do you know when to stay and when to go?
To subscribe, please click here.
Contact me to find out how to get heard above the noise
---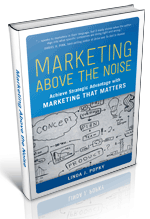 Check out the new video trailer for my book, Marketing Above the Noise: Achieve Strategic Advantage with Marketing that Matters.
---
Limited time to devote to marketing? Check out our weekly Just a Moment for Marketing videos. They only take a minute.
Let us help your business rise to the top.
linda@popky.com
(650) 281-4854
www.leverage2market.com